Sudbury Shuttle
The shuttle runs along Route 20 from Stephen Anthony's restaurant to Wayland Stop and Shop and then back again. The shuttle runs Tuesdays and Thursdays starting at 8:35 AM – 3:30 PM each week. This pilot project is funded in part by Older American's Act funds, awarded as a grant by BayPath Elder Services of Marlborough targeted to serve people 60 and over, as well as younger persons with a disability. Voluntary suggested donation per ride is $1 one way, though donations will not influence your ability to get a ride. Donation envelopes are available on the van. If you have any questors, please contact Ana Cristina Oliveira, Outreach, at [email protected] or call 978 443 3055.
Click here for the Sudbury Shuttle Schedule (PDF).
NOTE: The Route 20 Sudbury Shuttle will not run on Tuesday, August 27 and Tuesday, September 3.
Sudbury Senior Center Transportation Services
The Sudbury Senior Center offers both van and volunteer provided transportation to residents 60 and older, as well as residents with a disability. However, there are other options for travel within Sudbury and out of town.
Sudbury Connection (Van Transportation)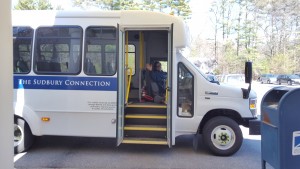 The Sudbury Senior Center offers door-to-door, handicapped accessible van service Monday through Friday from 8:30 AM to 4:00 PM (last pickup at about 3:30 PM).  Two Mondays each month we provide transportation to Market Basket and Walmart in Hudson on 1st and 3rd Mondays of the month.  Van service is available to seniors and people with disabilities who live in Sudbury.   New Riders must complete a MetroWest Regional Transit Authority (MWRTA) application and send a check (to MWRTA) to set up an account for van donations.  Applications can be mailed or emailed.  Please call the Senior Center for more information at (978) 443-3055.
Click here for the MWRTA ride application.
Once you have an account, schedule a ride by calling the MetroWest Regional Transit Authority (MWRTA) Reservation Center at (508) 820-4650 at least 48 business hours in advance.  The van travels within Sudbury and to some destinations close to Sudbury's borders.  The cost for in-town trips is $1.00 each way, and $2.00 each way for out-of-town trips.  Shopping days are Mondays and Wednesdays.  Shopping destinations in Sudbury and Wayland include: Sudbury Farms plaza, Shaw's Plaza and Wayland Town Center (Stop and Shop).
F.I.S.H. (Friends in Service Helping)
When family and friends are unavailable, volunteers can drive people to medical appointments.  Call 978-443-2145 one week in advance to schedule a ride.  Seniors leave their requests on the answering machine and the F.I.S.H. coordinator will return their call.
To learn more about this program, click here to access the FISH brochure and click here for the FISH Policies and Procedures.
Pilot Program with Dial-a-Ride
A pilot program will begin in mid-May that will supplement current transportation service with extended hours on Tuesdays and Thursdays from 4:00 – 7:00 PM – through a Dial-a-Ride van service.  The vans will be provided by the MetroWest Regional Transit Authority contractor Kiessling Transportation.  The pilot program will also include the opportunity to reserve van rides to and from the MWRTA hub to link up with the Boston Hospital Shuttle on Tuesdays; and the opportunity to request a ride to meet the Framingham bus route in Nobscot Village, Framingham, and/or the Marlborough bus route at the Wayside Country Store in Marlborough.  More information will be forthcoming.
Other Transportation Options in Sudbury
The following is a list of additional transportation options in the Sudbury area. This list does not constitute a recommendation, only information for an individual to consider for their needs. Should you need additional information, please call the Senior Center at 978-443-3055 or contact the individual resources listed below.
AAA Limousine (Sudbury): Market rate limo transportation as well as market rate taxi transportation. Hours are 9-5 and cost per trip is $20 ($30 to surrounding towns – 3 hour minimum). Contact directly for more information at 978-443-8925.
Tommie's Taxi (Framingham): Market rate taxi service as well as market rate, wheelchair accessible vans (drivers are specially trained). Contact directly at 508-872-3500 for more information.
American Cancer Society: Provides volunteers who drive people needing transportation for cancer treatments. Person must be ambulatory and provide 48-hour notice prior to ride. This program services much of Massachusetts, but it is not guaranteed. Contact directly for more information at 1-800-952-7664; http://www.cancer.org.
Mass Health (Medicaid) Medical Riders: This service is for MassHealth participant's medical rides only. The person must be on SSI and not capable of taking the MBTA. To receive this service the doctor must fill a PT-1 form and send it to the local MassHealth (Medicaid) office. This entitles the person to 10 round trips. Each individual doctor the person needs to see must fill their own PT-1 form. Contact directly for more information at 1-800-854-9928).
Suburban Med Ride: This service provides non-emergency, both chair and ambulatory, rides for medical appointments, adult day health, dialysis, and hospital discharges. The service area includes Greater Boston, South Shore, North Shore, and Metrowest and three business days are requested for scheduling. Contact directly for more information at 866-633-7433.
"Eligibility" can include the following, as relevant to the options listed: age (60 years+); disability (no age criteria; mental/physical disability); Veteran's status; cancer diagnosis; other medical criteria.
Click here for:  Transportation Resources for Medical Appointments (PDF document)