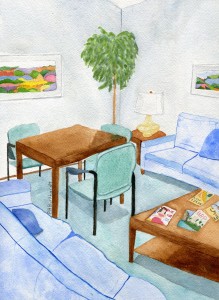 Through the devoted services of more than 200 volunteers, the Senior Center offers a variety of in-home assistance, listed below.  As well as providing support for seniors, these programs offer meaningful volunteer opportunities for people of all ages.
Friendly Visitor Program
Friendly visitors are volunteers who reach out to their neighbors to offer friendship, company, conversation and a listening ear. To learn more about this program, download the friendly visit brochure.
In-Home Fix-It Program
Seniors who can no longer (or should not) do small repair tasks at home can get free volunteer assistance with small jobs like fixing stuck windows, changing light bulbs, changing curtains on rods or installing curtain rods, repairing wall switches, wall plugs and lamp cords, tacking down carpets and installing grab bars and hand rails.  Seniors will only be expected to pay for any necessary parts and materials.
fixit brochure to learn more about the "In-home repairs" service available for seniors.
Shopping service
Seniors who need assistance shopping for groceries can be linked with a volunteer shopper.  The shopper will pick up a grocery list at a senior's home, go to a local supermarket of the senior's choice, purchase the groceries, and help the senior unpack and store the food.  Seniors pay only for the actual cost of the groceries purchased. For additional information, download our grocery shopper brochure.
Goodnow to Go
A senior volunteer will pick up books, DVDs or books on tape at the library and deliver them to the home of a senior who can't get out to the library.  Two to three weeks later the volunteer will return, pick up the material, and deliver fresh material.  This program is operated in collaboration with the Goodnow Library. For additional information, download the Goodnow-to-go brochure.
Sand Buckets
Volunteers will deliver a bucket of sand for you to use on your walks and driveway, free. Call the Senior Center, at (978) 443-3055. Let us know where you'd like the bucket to be placed. For additional information, download our sand buckets volunteering brochure.
Lock Boxes
The Senior Center can install lock boxes for Sudbury seniors. These are small safes containing a key to the house, accessible only by the Fire Department. A donation of $60 is requested to cover the cost of the lockbox, but can be waived for those who cannot afford the cost.